Online Magazines
Technological developments driving the e-bike market
October 2022
Connectivity still drives components development
Leading trends at Eurobike 2022
Safety and quality in drivetrain technologies
Next model year e-bike parts & accessories
Read the online magazine – Issue 23
---
Supply chain grips the bicycle industry
September 2022
Huge differences in lead-times makes supple uncontrollable
Industry insiders reflect on supply chain issues
An e-bike with no battery?
Reshoring production in Europe gathers pace
Read the online magazine – Issue 22
---
Eurobike reaffirms strengthening position of e-bikes
July 2022
European markets count wins and losses in 2021
Eurobike 2022 in an all-new environment
E-bike market share rapidly growing in Europe
Supply problems bring mixed results in key markets
Read the Online Magazine – Issue 21
---
E-bike innovations revealed at Taipei Cycle 2022
April 2022
E-bike innovations vital market driver
Taiwan eagerly waiting next physical meet-up
Innovations on display at Taipei Cycle show
Read the Online Magazine – Issue 20
---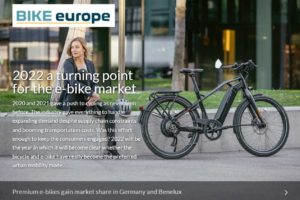 2022 a turning point for the e-bike market
March 2022
Premium e-bikes gain market share in Germany and Benelux
Portugal boosts bicycle and e-bike exports in 2021
CONEBI flags concern for e-bike battery repairs
Developments in e-bike innovation
Read the Online Magazine – Issue 19
---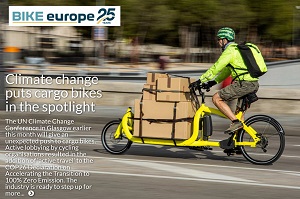 Cargobikes the next market disruptor
November 2021
Climate change puts cargo bikes in the spotlight
Urban Arrow founder Jorrit Kreek on future of transport bikes
Cargo bike in Germany change the looks of the streets
Are cargo bike set for UK boom?
Read the Online Magazine – Issue 18
---
Trade shows and industry events start again
September 2021
Eurobike kick-off trade show rally this week
World Cycling Forum: Capitalizing on the current cycling boom
IAA Mobility includes two halls for bicycles and e-bikes
Read the Online Magazine – Issue 17
---
World Cycling Forum 2021: Cycling boom spurs online sales
August 2021
WiggleCRC changes ownership
Online cargo bike reseller
Register for World Cycling Forum 2021
Retailer successful in omni channel
Read the Online Magazine – Issue 16
---
Market Reports - A new status for e-bikes
June 2021
German e-bike market reaches unparalleled sales records
Dutch e-bike and bicycle market value sees 30% growth
E-bike sales in Spain hit record numbers in 2020
The impact of COVID-19 on the 2020 bike market
Read the Online Magazine - Issue 15
---
E-bike innovations and regulations
March 2021
E-bike superlatives – Pushing innovation or price?
9 facts about refurbishing e-bike batteries
Oli focuses on close to market with Italian made e-bike motors
First hydrogen e-cargo bike soon on the road
Read the Online Magazine - Issue 14
---
E-bikes in the lead at Taipei Cycle Online 2021
March 2021
Market update EU e-bike imports
Taipei Cycle on track for online event only
Taiwan e-bike export up in turbulant 2020
Interview TBA Secretary General Gina Chang
Read the Online Magazine - Issue 13
---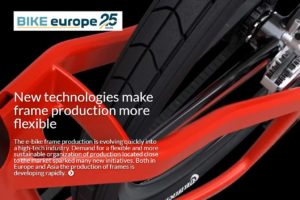 New technologies make frame production more flexible
December 2020
Alloy frame production starts in Bulgaria
3D printing brings flexibility
yo opens in-house frame building
Dyneema fibres makes frame unbreakable
Read the Online Magazine - Issue 12
---
Cycling boom leads the way to more innovations
November 2020
Innovative e-bike introductions 2020
Battery innovations that step up e-bike performance
Notable new products
Versatile and comfortable saddles
Cannondale brings fully recyclable packaging
Read the Online Magazine - Issue 11
---

2021 e-bike innovations that will spur the market
September 2020
Yamaha steps up market presence with new e-bike drive unit
BMZ launch 725Wh integrated e-bike battery
Bosch improves riders experience with more technical features
Fazua updates evation connectivity software for 2021
Read the Online Magazine - Issue 10
---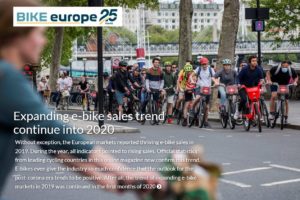 Market Reports: Expanding e-bike sales trend continue into 2020
May 2020
Post corona era to change position of e-bike mobility
E-bike continue to penetrate the French market
E-bike sales jump 39% in Germany
Solid e-bike sales despite subsidy stop in Sweden
Read the Online Magazine - Issue 9
---
E-bikes spark production transformation in Europe
February 2020
Inside ultra-modern Kross facility in Poland
Interview: E-bikes trigger investment boom
Production relocation becoming the main trend
E-bike production in EU to triple in next five years
Read the Online Magazine - Issue 8
---
Taiwan's bike industry entering new era
November 2019
• New approach to production; fully focused on e-bike engineering • E-bike industry growing at lightning speed • Giant's e-bike sales to grow over 50% this year • Also Merida invests heavily in e-bike production in Europe • Taiwan parts makers diversifying into components for e-bikes
Read the Online Magazine - Issue 7
---
Eurobike on solving supply shortages
September 2019
• Production relocating from China to Taiwan • What about production in Europe? • Robotized aluminium frame production starts in Poland • Belgium takes carbon frame production to the next level • Can hi-tech steel grade trigger volume production in Europe?
Read the Online Magazine - Issue 6
---
Aiming for bikes' electronic future
July 2019
• E-bike sales sky rockets across Europe • Are speed pedelecs on verge of breakthrough? • Regulations coming for electric step scooters • EU on why there are e-bike anti-dumping duties • Eurobike to show exploding offering in e-bike components
Read the Online Magazine - Issue 5
---
Taiwan industry reinvents itself
March 2019
• Market electrifying and digitizing • Taipei Cycle returns to March schedule • How fits new hall in Taipei Cycle concept? • E-Bike puts Taiwan's export on growth track • Giant and Merida report boosting revenues
Read the Online Magazine - Issue 4
---
E-bike market attracts more automotive suppliers
September 2018
• Is the e-bike motor market becoming overcrowded? • Car makers now actually entering electric two-wheeler market • E-bike dumping case: the consequences • Two-year user survey signifies great future for e-cargo bikes • Speed pedelec sales show steady growth
Read the Online Magazine - Issue 3
---
The growing complexity of the e-bike business
July 2018
• Will Chinese makers move production? • Taiwan and Vietnam warming e-bike export up • E-bike anti-dumping duties become fact • E-bike motor market to grow to multi-billion dollar business • E-bike batteries - Fire hazards
Read the Online Magazine - Issue 2
---
E-bike brings digitalization to the industry
February 2018
• Bike sector is reinventing itself • More car companies stepping into e-bike market • Yamaha grows motor production for Europe • Battery shortages coming
Read the Online Magazine - Issue 1
---